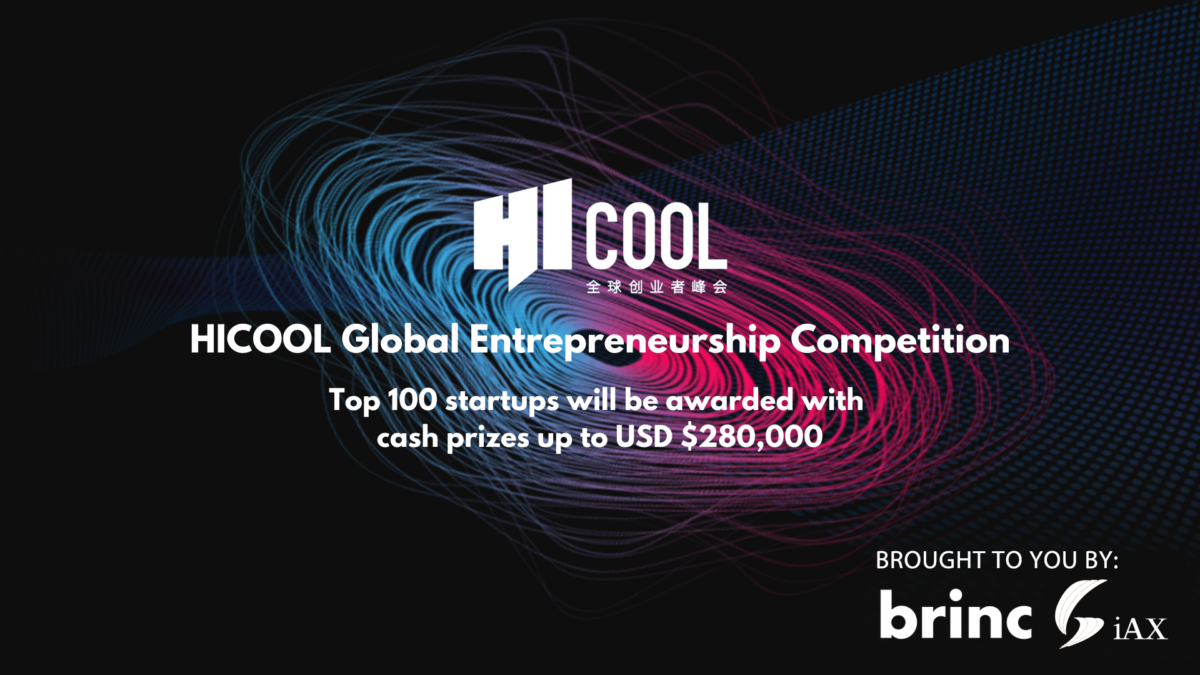 100名の勝者に賞金、スタートアップ募集中
HICOOL Global Entrepreneurship Competition
HICOOLグローバル アントレプレナーシップ コンペティション
〜世界でビジネスをしたいあなたへ挑戦状が届いています〜
1)Brief Introduction(募集内容)
HICOOLグローバル アントレプレナーシップ コンペティションは「Envision Your Future未来を創造しよう!」をテーマに、創業者のために生まれました。私たちは、全世界の優秀なプロジェクトの発掘に力を注ぎ、それらが北京での迅速に発展するようを支えてきました。当コンペティションは100個の表彰項目を持ち、総賞金は8000万人民元にも上ります。
また、当コンペティションは中国のトップの投資家をはじめ、著名メンター、起業家などをゲストに迎え盛大にイベントを開催します。世界企業となったAlibaba、Baidu、Xiaomi、ByteDance、またセコイヤキャピタル、IDGキャピタルパートナーズ、Northern Light ベンチャーキャピタルなどもパートナー企業です。iAXもサポート企業として参画しています。
ベンチャーキャピタル・アクセラレーターのBrincは、HICOOLと共同で、日本でもセミファイナル ピッチコンテストを開催し、20社のスタートアップが応募から選ばれ、その中から上位10社を9月9日から10日に北京で開催するファイナルコンテストに招待する予定です。
ぜひ日本のスタートアップ企業の皆様、こちらからご応募ください。
素晴らしいチャレンジとなることを願っています。
The HICOOL Global Entrepreneurship Competition was created with entrepreneurs in mind. Our theme is "Envision the future". We aim to find global startups who are looking to enter the China market through its innovation and venture capital hub – Beijing.  The top 100 startups will be awarded, with a total sum of USD 7 million dollars in cash prizes.
The competition will invite top Chinese investors, well-known mentors, and leading entrepreneurs to provide full-scale entrepreneurial counseling and assistance for the participating projects, creating a multi-level, multi-dimensional, and diversified international entrepreneurship model. Competition partners include top Chinese Tech giants such as Alibaba, Baidu, Xiaomi, ByteDance, and top tier investors including Sequoia Capital, IDG Capital Partners, and Northern Light Venture Capital.
Brinc is partnering with HICOOL to support the Regional Semi Finals in Germany and Japan. We're looking for the top 20 startups in each country, with the top 10 being flown to pitch  at the Finals in Beijing later this year.
Apply now for the chance to pitch at our Regional Semi-Final Competition (online)!
2) Competition Requirements(応募要件)
コンペティションは科学技術の分野における創業プロジェクトをターゲットにしており、各部門に関しては、以下の6大産業領域に分けられます。
AI /ビッグデータ/金融テクノロジー;医薬健康;新世代情報テクノロジー;新エネルギー/新素材/スマート技術;文化創意;その他
We're looking for the best startups in Japan who are looking to expand their businesses to Beijing, China. Startups need to be focused in one of the following categories:
Artificial Intelligence

Big Data

Financial Technology

Medicine & Health

Next Generation Information Technology

New Energy

New Materials

Smart Equipment

Cultural Innovation
Startups will be judged on the following criteria:
Innovation and creativity

Impact of your technology/product/service

Why your business is relevant to Chinese consumers, corporates, or investors
3)Prizes(賞)
一等賞
二等賞
三等賞
優秀賞
受賞者数

5

名

15

名

30

名

50

名

賞金(免税)

200

万人民元

100

万人民元

50

万人民元

20

万人民元
First Prize (1st – 5th place)
Cash prize of RMB 2 million / USD $280,000
Second Prize (6th – 20th place)
Cash prize of RMB 1 million / USD $140,000
Third Prize (21st – 50th place)
Cash prize of RMB 500,000 / USD $70,000
Winning Prize (51st – 100th place)
Cash prize of RMB 200,000 / USD $28,000
In order to receive the cash prizes, you will need to register your business in Beijing. The organizers will provide free business registration services.
Other prizes include an all expenses paid trip to Beijing, China and 3 years free office space in Beijing.

4)Competition Timeline(選考スケジュール)
June 9th – Applications Open

July 15th – Applications Close

July 16th – 19th – Application Review

July 20th – Semi-Finalists Announced

July 15th – August 20th – Regional Semi Finals (Germany & Japan) – Online Pitch Events


(ピッチは英語・日本語です)

September 9th – 10th – HICOOL Global Entrepreneurship Competition Finals in Beijing, China
5)Organizers(主催者)
HICOOL Global Startup Competition is hosted by Beijing Hycore Innovation and … of course Brinc!
Brinc is a different breed of venture capital and accelerator firm. Core to our business is our belief that some of the world's biggest challenges can be solved by entrepreneurs, who we like to call GAME CHANGERS. More game changers will make a positive impact on the world if they are given the right backing. And that's what we're here for. To support and mentor founders and their teams from across the world and provide investment to help them grow. Today, we believe that technology-focused startups, with the right backing and support can fundamentally change how we move, what we eat, how we feel, and where we live for the better.
Strategic Partners:
Alibaba, Baidu, Mi, ByteDance and TikTok, Sequoia Capital, HillHouse Capital, IDG Capital, Northern Light Venture Capital, FESCO, FuWah International Group, Beijing Stock Exchange Trading Center, Peking University Alumni Association, Tsinghua University Alumni Association, Zhihu, Mai Mai, Slush China and … of course iAX!